OCTÉ Lift, the expert lift distributor, renowned for its technical support, product range and logistics.
Throughout the product range on sale, OCTÉ Lift can advise lift engineers to help them make the best technical choice that meets their needs.Given its awareness of what lift engineers require, OCTÉ Lift provides product bundles in kit form to manage all lift functions (machine kit: machine, frame, cover).
In its catalogue, OCTÉ Lift covers all groups of lift products:

– Traction machine
– safety gear systems, over-speed governor, guide, car
– Controllers, equipment for the shaft and car
– Command and Signalling
– Door locks, door closers, retiring cams, door operators
– Electrical and mechanical safety devices
– Tools

Additional services
Cable cutting and sheathing service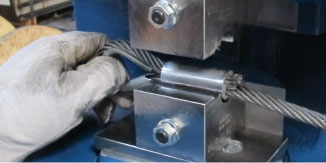 With permanent stock of over 100 machines and all associated accessories (frame, cover, etc.), OCTÉ Lift offers immediate solutions for repair or upgrade.The new department for steel rope cutting and sheathing offers and additional service and guarantees shorter lead times.
Several rope diameters are available for cutting to length. Ropes are supplied with a wooden reel and traceability certificates.
The sheathing operation reduces assembly time on site whilst also complying with EN 81-20 standard.
Over-speed governor calibration
OCTÉ Lift has a calibration bench for adjusting over-speed governor .This technical operation is possible thanks to OCTÉ Lift's certification in Annex VII of the Lifts Directive concerning safety component control.With this technical solution, specific requests can be handled within 72 hours as part of repairs or upgrades.
Availability and responsiveness
With over 3,000m² of warehouse space, 6,000 products and a logistics network, OCTÉ Lift can swiftly respond to lift maintenance and repair needs. We can deliver anywhere in Europe and in different ways: express, collection points, charters, delivery on site, etc.

OCTÉ Lift's technical teams are trained and qualified to assist and intervene on site on electrical and mechanical products.
Trusted partners
For 60 years, OCTÉ Lift has been distributing the best range of products to lift professionals.OCTÉ Lift has always opted for products from suppliers that meet key quality, reliability and compliance criteria in the lift sector. Thus, our exclusively European suppliers are true partners who work alongside us in the quest for customer satisfaction.
Our site
Located 1 hour 15 mins from Paris, OCTÉ Lift is ideally located to distribute its products and lift solutions in France and Europe.The Czech Republic branch is located in Prague, just a few minutes from the city centre.